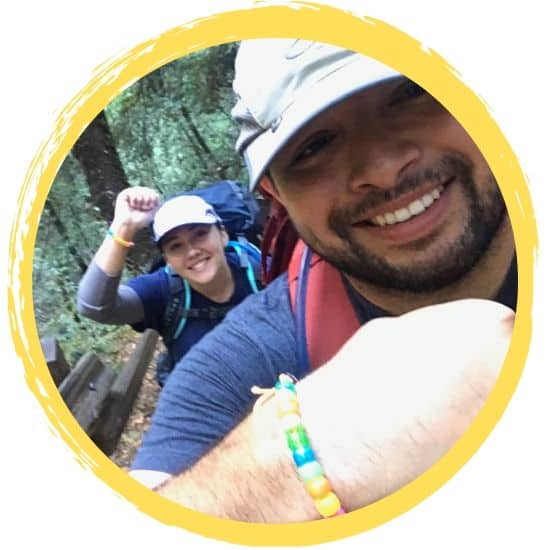 Dear April Rey,
We decided to plant a small grove in a national forest for you. Nature is beautiful and we often find it helps us through hard things.
When we are in nature and it's quiet and we are surrounded by living things, we often think about the people we miss and love.
We think of you many times throughout our days but we feel particularly close to you when we are outside and quiet.
"In the green of the grass…in the smell of the sea…in the clouds floating by…at the top of a tree…in the sound crickets make at the end of the day…'You are loved. You are loved. You are loved' they all say."
We didn't make it out to Maryland to meet you, but you are our family and we love you more than you know.
We will miss the chance to see you grow up.
We will miss all the roller coasters we won't ride together.
We will miss introducing you to new music and being the cool Aunt and Uncle who take you to concerts.
We will miss the snuggles and the kisses.
But most of all we will miss the smile we never got to see and the laugh we didn't get to hear.
You have made such a profound impact on our family in the 11 minutes you were with us.
You reminded us what it means to be a Villegas and you pulled all of that goodness out of us.  
You helped Caroline become a wonderful big sister and learn what loving someone unconditionally means.
I think you reminded us all of what that means.
You were able to move us in ways none of us could have imagined.
Inspiration comes in millions of different ways and now that you are gone, your little, beautiful body will be an inspiration in a million different ways for generations to come.
You'll never know the impact that you will have on the world, but the impact will exist all the same.
We are very sad that we didn't get to meet you when you were here, but we are very honored and blessed that we get to call you our niece for forever.
We will always love you, April Rey.
And to Caroline – we wear our bracelets often and we wanted to thank you for making them for us.
What a compassionate and wonderful big sister you are. You are also such a wonderful niece and your bracelet is helping us heal each day and remember April.
Auntie and Uncle are always here for you.
– Auntie Maria and Uncle Adolfo