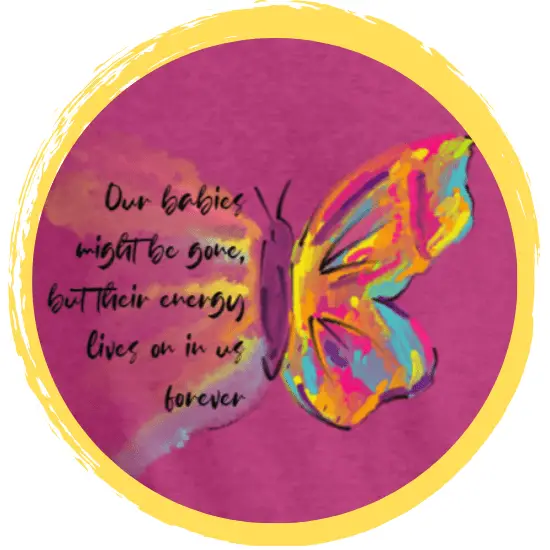 Please see below for details about the 2021 Terminations Remembered Fundraiser in honor of April Rey Villegas and the Terminations Remembered community.
Dear April Rey,
Your 4th birthday is approaching. As we get close to your birthday every year, I feel the tug of sadness peak inside me. Each year I feel like it starts earlier and earlier. I miss you so much.
I find myself extra stressed, not knowing why. I find myself extra emotional about everything, not knowing why. Then I realize… it's coming. Your birthday, August 8th… it's coming. My whole body reacts and knows it's quickly approaching. It's a day to celebrate you, but it's also the day you died. It's the day we had to say hello and goodbye.
This year with the pandemic, I find my grief lurking everywhere.
So many people don't get it. Today my neighbor told me that my kids "probably" won't die if they get Covid. "It's such a small chance," he said as he hated on masks and restrictions, etc. Except when you've been the 1 in 10,000 odds and had your baby die, well that reality becomes more real.
This pandemic has made my grief heighten for sure. It's made me have anxiety that I've never experienced before. And a lot of people around me don't get why we've been so conservative and cautious. And so many times I feel like the odd one out still not doing things, still asking people to mask up around us, still hoping that masks are in schools for the children that can't yet get vaccinated.
Well… we know what it's like to hold our dying child. We know what it's like to be on the losing end of "good odds"… so "probably" isn't enough for us. So I will keep fighting to protect my living children. And I will keep fighting to keep my anxiety in check through all of this.
Each year I think about all of the things I wish we could do together. I wonder about all of the things you would be interested in and I think about how you and Caroline would love playing together. I look at William and wish all three of you could be here.
We've had a year and a half at home enjoying each other's company. Enjoying the slow down. The slow down that started with you, and is pulling in strong with this pandemic. I wish your little footsteps were heard running down the stairs, and I would do anything to hear you laugh outside with Caroline and William. I bet you, too, would be asking Daddy for more tickles and then running away hoping he'd catch you.
We'd have one more year together before you start kindergarten. You might be starting Pre-K at the elementary school this year, though. You'd be so eager to go and be with Caroline. You'd want to be just like your big sister doing big kid things.
I'd teach you to read this year and maybe we'd start practicing how to write your name. Maybe you'd pick an activity to do. Maybe gymnastics or ballet. Maybe you'd want to do soccer, or swimming, or even horse riding lessons like Caroline is about begin.
If you were here I'd know all of your favorite things. You'd make us laugh and we'd get to make more and more memories. Instead I am left guessing. Thinking. Wondering. Missing.
Every year I'm also so grateful for Caroline's influence on how we spend your birthday. Back on your first birthday she insisted we make a cake, and it was not at all what I wanted to do. But now I love it. I love that we don't just sit around sad. We sing Happy Birthday to you and we have a cake. We might visit where your ashes are spread, and we might get a present for you- something more to remember you by or something to help us in our grief.
We have a fun day, and we laugh and cry and just feel you and take you in as much as we can.
We read the book that we read to you the day we held you. This year we might read the books that I wrote in your honor as well. We'll look through our box of things that we have collected for you- the stethoscope that heard your heartbeat, the cards that people sent, the tiny outfits that were donated, and so much more. We hold it, we feel it, we hug things, and share our thoughts.
I don't know what all we'll do quite yet on your birthday this year, but I know we'll have family time and talk of you and celebrate your life.
And I also know we'll continue the tradition of a fundraiser in your honor. Every year we've been able to raise money- the first year for St. Jude, and the subsequent years for parents going through TFMRs and baby loss. It makes me so happy that your legacy can and will continue to help others.
I love you so much, sweet April.
Love,
Mama
Terminations Remembered 2021 Fundraiser Information
This year I am doing the fundraiser through the TEARS foundation.
Our goal that I hope so badly to see through, is to create a bereavement room at Hopkins or another hospital for families that go through a loss like this to be able to take their time and have a special place to be in their first and final moments with their baby. We are working to make that happen with these funds and will continue to work on this each year with the funds raised through our annual fundraiser.
Other things that these funds may go towards are bereavement boxes, funeral help, and other support for families. 
And this year, at the request of so many, I've brought the T-shirts back! I've tried a few fundraising methods, and the shirts were by far the biggest hit. Parents really have enjoyed these and love having their baby's name on the back of the shirt.
I made a special design this year, and the T-shirt phrase is something that will be voted upon by all the donors.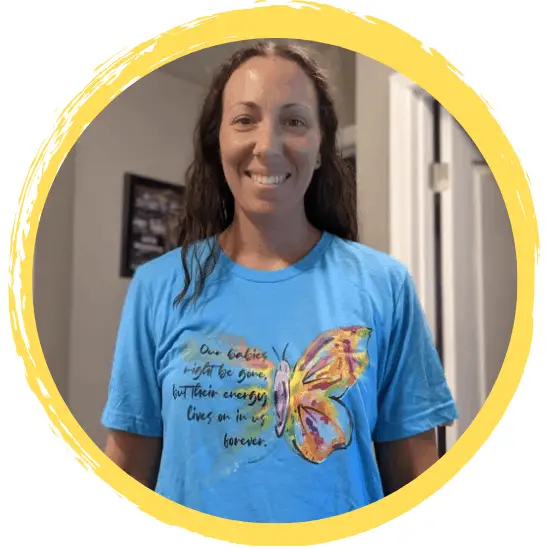 These shirts will be available in adult, kid and toddler sizes. There will be a variety of colors as well. The back of the shirt will show the baby names we are honoring this year from the 2021 donations. And the shirt phrase can be voted on by anyone that makes a donation. It will be one of the following options:
Our babies might be gone, but their energy lives on in us forever.
My baby might be gone, but their energy lives on in me forever.
Energy is neither created nor destroyed. My baby lives on in me forever.
The back of the shirt will look similar to this, but will be updated with the 2021 names of "Angels Loved and Lost":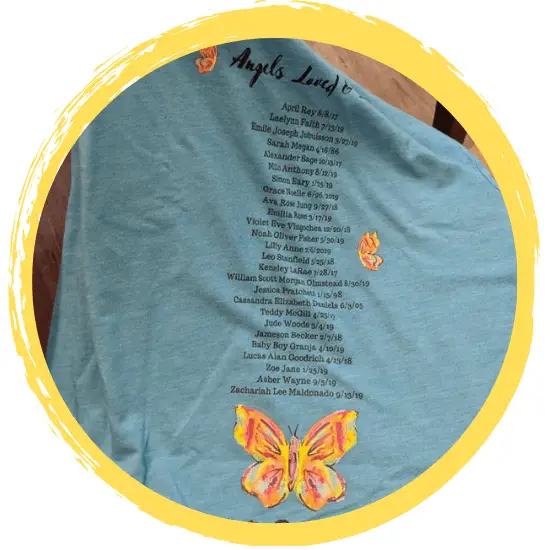 To donate, please go to this link: https://give.thetearsfoundation.org/terminationsremembered
When you donate to this fundraiser, you will then receive an email from me. This is not an automatic email so it will not be immediate. At the end of each week, I will send out these emails- so be on the lookout and check junk/spam! In this message will be a link to a google doc where you can vote on the shirt phrase and add your baby's name to the shirt. 
On August 15th, I will finalize the shirts (so if you want your baby's name added, please do so before this deadline). 
*Remember to make your donation, watch out for the email by the end of the week, and add your baby's name to the document EXACTLY as you'd like it to read on the shirt. The link to purchase shirts will be provided at the end of August when I've had a chance to compile all of the names and get the shirt design finalized.
Thank you so much for your donation and support. Together we can help make someone's TFMR experience go more smoothly and feel less alone. Please share this donation link. Your friends and family will want to support your angel as well:
Donation link: https://give.thetearsfoundation.org/terminationsremembered
Also a reminder, you can donate, and you can also "join the team". Joining the team will give you access to create an individual fundraising page that is tied to the Terminations Remembered team. Feel free to do this option as well and have a page directly in your baby's honor to share with friends and family. Or feel free to simply share the team page to gather more donations. Friends and family can write a note when they donate to dedicate a donation to you, and so many people love doing that to support your baby and remember them.
If you have any questions, please email me at [email protected]